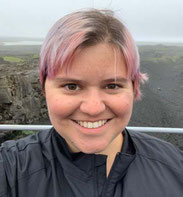 My name is Ginny Hutcheson and I am a learning experience designer in the Teaching and Learning Transformation Center. I work with instructors across campus through workshops, one-on-one consultations, learning communities, and other projects. I love the community that forms when I'm able to work with an instructor or department for a longer period of time - so if you have ideas that I can help with, please reach out! I have been at UMD for just over a year now.
I grew up in Northern Virginia, which has a strange rivalry with Maryland, particularly around the quality of drivers. I'm not sure if it goes both ways or if it's just a weird NoVa hangup. My teenage self would be shocked that I now work in College Park! 
In high school, I flocked to other queer kids before any of us knew we were queer. We formed a very tight-knit community that I am still close with today. I am lucky to call these friends my family, and I am especially delighted that my spouse and I have five young niblings (nieces and nephews) from this group. We're exceptionally weird, which I love. For example, my two-year-old niece requested that we all dress as the preschool celebrity Blippi for Halloween this year. Of course we obliged - we were quite the talk of the neighborhood!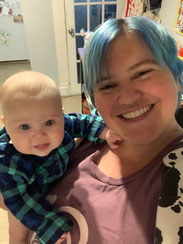 I've wanted to teach since I was six. With that in mind, I went to William & Mary in Williamsburg, VA where I earned a BA in psychology and elementary education, an MAEd in curriculum and instruction with a focus on gifted education, and a certificate in teaching English to speakers of other languages. I taught elementary school in Arlington, VA for nine years in a variety of roles. One favorite job was helping students new to the country to learn English. It was incredibly fun and rewarding to help these students start to speak English, understand classroom routines and structures, make friends, and learn. I also loved teaching math and working with other math teachers to integrate more hands-on, conceptually driven learning. Yes, I'm a big proponent of so-called "new math!"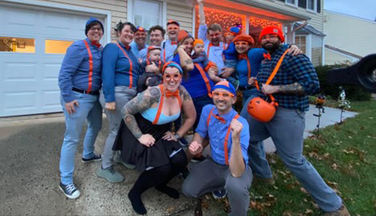 I never thought I'd work at the university level, but the more I worked with other adults, the more I wanted to branch out and try new things. I learned about this job opportunity from a friend I knew through listening to a queer, Buffy the Vampire Slayer themed-podcast - certainly an odd connection, but one that I treasure! My queer identity is very important to me, so it brings me great joy that it indirectly helped me get this job. I also love being able to use and share my love of diversity and social justice by working with instructors and departments on inclusion, anti-racist pedagogy, and more.
I value learning and feel so lucky that I get to work with experts in so many different fields that I know nothing about! I learn something new every time I work with an instructor. I can't wait to see where my journey brings me next.