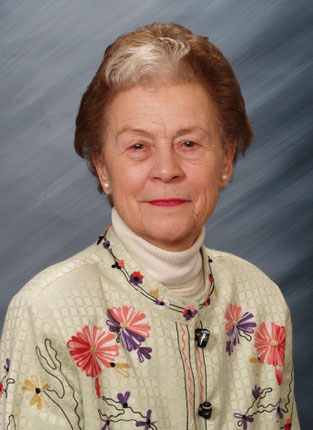 Dr. Elisabeth Gantt is a Distinguished Professor Emerita in CBMG who has won numerous awards and was elected into the National Academy of Sciences in 1996. A scientific award has been established in her name at her alma mater, Blackburn College, by her former classmates. The Elisabeth Rohatsch Gantt '58 Award was established to provide a cash award to qualified graduating Blackburn College seniors who have been accepted to a graduate or professional school, intend to pursue a career in science, and have demonstrated perseverance and dedication to their course of study.  
The Dr. Elisabeth Rohatsch Gantt '58 Award was established by her Blackburn College class of 1958 classmates Carol (Nielson) Hughes and Clarence "Pete" Hughes as a way of recognizing and honoring Dr. Gantt's great contributions to research in the field of plant science. For her work, Dr, Gantt was invited into the most exclusive National Academy of Science. Dr. Gantt is only one of 3 persons in the history of Blackburn College to be so honored. 
Dr. Gantt's life story is one of determination and inspiration. Born in a small town near what is today the Serbian/Hungarian border, WWII and the advancing threat of communism found Dr. Gantt, her mother, brother, grandmother, aunt, and cousins fleeing their home. They spent the next several years at various camps and farms in Czechoslovakia and Germany. Dr. Gantt's mother had lived in the United States as a child and through an odd twist gained citizenship, which they learned meant that Dr. Gantt and her brother could claim citizenship as long as they arrived in the country by the age of 16. Dr. Gantt was already 15 so the family quickly made plans and with the help of family moved to Chicago where she began high school. Dr. Gantt's first language was German and her exposure to English was primarily through Dick and Jane books and comic strips. Though not easy, Dr. Gantt completed high school and thanks to the encouragement of her biology teacher who knew of Blackburn continued her education.
Dr. Gantt was the first in her family to attend college and it was highly unusual at this time for a young woman to pursue higher education. At Blackburn Dr. Gantt took many sciences classes taught by Dr. William Werner and later became his teaching assistant. A week after graduation Dr. Gantt married Blackburn classmate Raymond Gantt and they moved to Chicago where both continued their education earning their PhD's. Early in her career Dr. Gantt faced the challenges of being a young woman in a scholarly and male dominated field but she was not deterred. The Gantt's first stop as new PhDs was Dartmouth where Dr. Gantt began as a technician, but within a year was a postdoc fellow. After moving to the DC area where Raymond began his career at the National Institutes of Health, Dr. Gantt took a job with the Smithsonian Institute for many years and later moved on to a research and teaching position at the University of Maryland where she became a Distinguished Professor. Dr. Gantt made numerous contributions to the profession receiving recognition and providing significant service as an advisor and officer of multiple societies. 
Dr. Gantt was awarded the Darbaker Prize from the Botanical Society of America and the Gilbert Morgan Smith Medal of the National Academy of Sciences. Her service includes time on the National Research Council, the American Association for the Advancement of Science, and the American Society of Plant Biology where she was elected as the first female president. The ultimate honor was being inducted into the National Academy of Sciences in 1996. Even in retirement and well into her 80's Dr. Gantt continues to conduct research in a small lab at a college near her home in Virginia. 
*Thanks to the staff at Blackburn College for Dr. Gantt's biography.