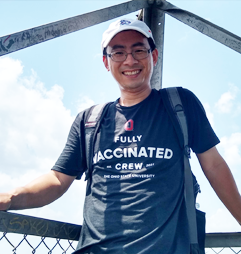 Growing up in a rural area on the east coast of China, I was the first college student in my extended family. I went to Fudan University, known as the Yale of China, to study biology from 1999 to 2003. During that time, biology was considered a field of the future and started to boom in China. Soon after I joined Fudan, I knew I would need to go to the USA for advanced training after graduation. I began to prepare for TOEFL and GRE in addition to taking courses and getting research experience in the lab. Then came 9/11 followed by restrictions for visa application, and my dream to the USA appeared to have ended. Fortunately, the tension eased a bit the following year. I accepted an offer from The Ohio State Biochemistry Program and successfully received a visa. By the way, I also applied to a UMD graduate program but wasn't accepted. So, to all UMD graduate students, you are off to a better start than me.
I landed at the Columbus Airport at the end of summer in 2003 and was warmly welcomed by an International Friendship Group. A tall white young man named Andy and his Korean girlfriend Joey picked us up and drove us to a host family. The Wagner family made us feel at home, and I played my first horseshoes game in my life. This was a different USA from what I imagined. Graduate life at Ohio State was busy and full of joy. I had my first apple-picking trip, watched the first "football" game, met a great mentor Michael Ibba, learned tennis, got married, had my first son, and published five first-author papers. I also visited DC for the first time and immediately fell in love with it. After graduation, I joined Dieter Söll's lab at the Fudan of USA. On our way to New Haven, I drove through New York City and accidentally got off the highway into Manhattan. I immediately felt the culture shock moving from the Midwest to the east coast: I got beeped in NYC in 30 minutes more times than in the five years I spent in Columbus, including once when I was yielding to the pedestrian on a turn. Yale did not disappoint. I met wonderful fellow postdocs who were becoming rising stars, distinguished faculty who were leading each of their fields, and Dieter, who was in his 70s but had sharper memory than any of us in the lab. During my stay, the Söll lab was a small United Nations with postdocs and students from Europe, Asia, and the Americas. It was always fun to chat about different cultures during coffee/tea/water breaks.
My first faculty position was at the University of Texas Houston Health Science Center. Houston is a multi-culture city and has such a large presence of the Asian community that we were not even considering ourselves as minorities. In Houston, my family moved into our first house, enjoyed many fishing trips and the rodeo, and welcomed my second child. We also had the luck to witness a 500-year flood, an 800-year flood, and a 1000-year flood, all in five years.
Moving my family from Texas to Maryland in 2018 was not an easy decision. We had to pay twice for a house half the size and 50 years older than our previous one, but we love it here. We were welcomed by our neighbors and colleagues with parties, including the famous dumpling party at Dan's house. The kids also quickly made new friends and enjoyed exploring all the wonderful resources around the area. During the 20 years since I moved to the USA, we have been moving to a new place precisely every five years. The five-year mark is fast approaching. We will clearly break this pattern and hopefully make Maryland a permanent home.