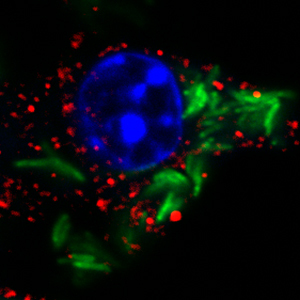 CBMG's Volker Briken and Shivangi Rastogi find a gene that helps Mycobacterium tuberculosis turn off an important immune signaling system in infected human cells. 
When Mycobacterium tuberculosis (Mtb), the bacterium that causes tuberculosis, infects a person, the body's immune response is critical to how the disease will progress—either helping the body fight the bacterium or exacerbating the infection.
University of Maryland researchers discovered a way that Mtb can cause a person's immune cells to lower their defenses. Specifically, they identified a gene in the bacterium that suppresses immune defenses in infected human cells, which could exacerbate the infection.
This new finding may point to an effective target for a gene-based treatment or preventative therapy for tuberculosis, which sickens about 10 million people and kills 1-2 million people annually according to the World Health Organization. Available treatments are only 85% effective and multidrug-resistant forms of tuberculosis pose a public health threat in many parts of the world. The study was published on July 29, 2021, in the journal PLOS Pathogens.
Read more here: https://cmns.umd.edu/news-events/features/4823
Other co-authors of the study from UMD are postdoctoral associate Jacques Augenstreich and former graduate student Sarah Ellinwood (Ph.D. '17, biological sciences), now at Verge Scientific Communications.
The research paper, "Mycobacterium tuberculosis inhibits the NLRP3 inflammasome activation via its phosphokinase PknF," Shivangi Rastogi, Sarah Ellinwood, Jacques Augenstreich, Katrin D. Mayer-Barber and Volker Briken, was published on July 29, 2021, in the scientific journal PLOS Pathogens.