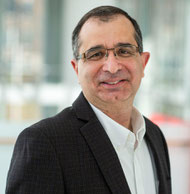 Integrated Life Sciences is a living-learning program focused on biological sciences and offers an accelerated curriculum for talented STEM students. The program includes a significant research requirement, a student-driven service-learning experience, and an emphasis on student wellness.
Professor Najib M. El-Sayed has been appointed as Director of the Integrated Life Sciences program. Dr. El-Sayed is a Professor of Cell Biology and Molecular Genetics, with a joint appointment in the Center for Bioinformatics and Computational Biology at the University of Maryland Institute for Advanced Computer Studies. His research focuses on the study of the biology of parasitism and host-pathogen interactions using genomic and bioinformatics approaches with the goal of understanding infection and survival mechanisms. He is the author of more than 80 research articles and book chapters and was designated as a highly cited investigator in microbiology by Thomson Reuters. Dr. El-Sayed was the founding director the Computational Biology, Bioinformatics and Genomics graduate concentration area of studies and the founding director of the Next-Generation Sequencing facility at UMD.
Professor El-Sayed's areas of teaching include genomics, bioinformatics, and host-pathogen interactions. He has mentored numerous post-doctoral fellows, graduate, and undergraduate students, and was named Philip Merrill Presidential Scholar Mentor in 2011.
Professor El-Sayed holds a Ph.D. from Yale University in molecular parasitology, a M.S.P.H. in parasitology and tropical medicine from Tulane University, and a B.S. in biology and environmental health sciences from the American University of Beirut.
Dr. El-Sayed succeeds Dr. Todd Cooke who founded this extremely successful program. We are all very proud of the legacy that Dr. Cooke has left us, and we are sure that Najib will take it even further.
Read more here.